It's films like Anna and the Apocalypse that reminds me why I love film so much. A high school set zombie comedy during Christmastime, and oh yeah, it's a musical; that description alone insists that this is one to see.  The concept of a horror comedy musical sounds cute, but instills the assumption that this will play for a younger audience only. Which, I'd be fine with, because kids need gateways into horror anyway. Except, writers Ryan McHenry and McDonald, or director John McPhail aimed for so much more than that. I expected fluff, but instead I received pure joy on screen. Anna and the Apocalypse is yuletide guts and glory, carnage and cheer, and no believer of Hollywood endings. In short, it won my heart.
 Anna's story gets far darker than most high school set stories would ever dare.
High school student Anna finds herself in the familiar trappings of a small town that she desperately wishes to break free from. Her best friend John pines for her, though he's firmly in the friend zone. The guy she did like turned to jerkish behavior after their fling. She wants to skip university to travel, a move her overprotective dad takes harsh issue with. If she finds her current existence boring and familiar, it doesn't stay that way for long when a zombie outbreak coincides with the school's Christmas concert. Anna must band together with her friends to fight- and sing- their way to back to the high school to find their parents and survive.
If you're like me, musicals can make or break by their songs. Luckily, Roddy Hart and Tommy Reilly's music is not only good, but it's often hysterical. The songs are woven in organically, too, so they don't seem shoehorned in as an afterthought. There are several memorable songs (can someone release the soundtrack, please), but Marli Siu's Lisa wins the prize for most inappropriate Christmas song ever, and the dance number the complements it had the audience rolling. It's these moments early on that indicate Zac Efron wouldn't last a minute at this high school- he'd be zombie breakfast from the get go.
In terms of zombie tropes, Anna and the Apocalypse follows the familiar beats. News heard on the radio on the way to school hint at the impending outbreak, before a full-scale outbreak makes Anna's path to find her father a deadly one. I should emphasis deadly. Anna's story gets far darker than most high school set stories would ever dare. It never shies away from the harsh sting of death. Death is a tragic, mean reality of life. More importantly, Anna's journey also teaches about the importance of pushing through and moving forward. Life will deal hard blows. Move forward, get stronger, and grab life by the balls with every breath you still have. It's a poignant emotional core reflected in the film's creation as well.  The narrative stems from Ryan McHenry, creator of BAFTA-winning short Zombie Musical. He never got to see the short expand to feature film length, as he tragically died from cancer, but his childhood friend and producing partner set out to make his dreams come true posthumously.
 Anna and the Apocalypse is yuletide guts and glory, carnage and cheer, and no believer of Hollywood endings.
The cast is stellar as well. From the over the top villainy of Paul Kaye's Headmaster Savage, to the comic relief endearing nature of Malcolm Cumming's best friend John, there's no weak leak in the cast. Ella Hunt is a clear rising star as lead Anna. There's an old stage adage, "There are no small parts, only small actors," that applies here; everyone on screen fully commits to their character, no matter how small their role. Even the charming costumed penguins steal their scene- you'll know it when you see it.
I realize this reads as a bit hyperbolic. There's just no way I could avoid gushing about it. I expected fun, and I received it in measures, but I didn't expect such an emotionally moving story with characters I would fall so hard for. Take note, Hollywood; this is how you do a high school musical.
Anna and the Apocalypse made its World Premiere at Fantastic Fest on September 22, 2017.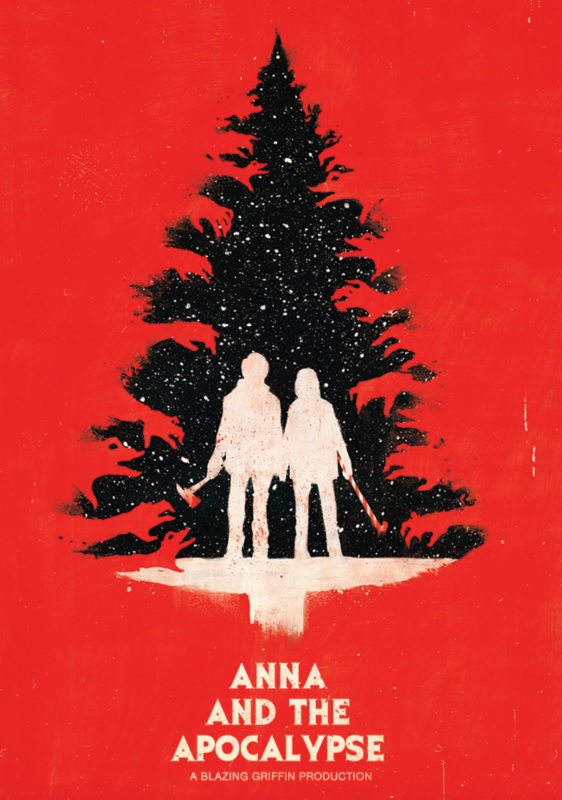 Anna and the Apocalypse [FF 2017 Review]