Terry Gilliam has had an extremely decorated career creating adventure fantasy films, but none of his films have crossed into the sci-fi, dystopian, horror genre quite as much as the Oscar nominated 1995 film 12 Monkeys. Ranked as one of the all-time best sci-fi films by Screenrant, IGN, Looper, Reader's Digest, AV Club, Rotten Tomatoes and dozens of others, 12 Monkeys packs a poignant punch especially in today's all-too-familiar "virus culture." Thankfully this film can finally be viewed on the 4K UHD format courtesy of Arrow Video.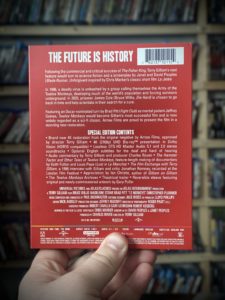 Packaging and Art
The first thing will catch your eye is the striking and beautiful original and newly commissioned artwork done by Gary Pullin which was also available on the previous 2018 Arrow bluray as well. The artwork is reversible and wraps around a traditional black 4K soft case. Inside the case you find a single 4K UHD disc as well as a collector's booklet which is only available in the first pressing. I truly love both of Pullin's original designs for this artwork and I think the red color really lets this catch your eye on a shelf.
Bonus Features
Brand new restoration from a 4K scan of the original negative by Arrow Films, approved by director Terry Gilliam
4K (2160p) UHD Blu-ray presentation in Dolby Vision (HDR10 compatible)
Lossless DTS-HD Master Audio 5.1 and 2.0 stereo soundtracks
Optional English subtitles for the deaf and hard of hearing
Audio commentary by Terry Gilliam and producer Charles Roven
The Hamster Factor and Other Tales of Twelve Monkeys, feature-length making-of documentary by Keith Fulton and Louis Pepe (Lost in La Mancha)
The Film Exchange with Terry Gilliam, a 1996 interview with Gilliam and critic Jonathan Romney, recorded at the London Film Festival
Appreciation by Ian Christie, author of Gilliam on Gilliam
The Twelve Monkeys Archives
Theatrical trailer
Reversible sleeve featuring original and newly commissioned artwork by Gary Pullin
FIRST PRESSING ONLY: Illustrated collector's booklet featuring writing on the film by Nathan Rabin and Ian Christie
Audio: Lossless DTS-HD Master Audio 5.1 and 2.0 stereo 
There isn't a ton going on here in regards to audio. It's the same mixes available to us in 2018 by Arrow video via the bluray. I found that the vocals were harder to discern than I would have liked on the 5.1 mix. There's a good use of surrounds overall but nothing that really stands out in the surround mix. Not a lot of subwoofer action either. Some of this is most likely due to the age and production style of the film, but I do feel like it could have been a bit more immersive.
Video: Brand new restoration from a 4K scan of the original negative by Arrow Films in 2018, approved by director Terry Gilliam with Dolby Vision and HDR10
This is a VERY tricky disc to review the picture quality on. The film itself intentionally has a very dirty and gritty shooting style and is supposed to look rough. With that being said, I don't know how much a 4K restoration really was ever going to benefit this film. The differences that I noticed compared to the previous bluray are small but prominent. The details are increased quite a bit, and the color was redone for an HDR scan. Certain colors are definitely more vibrant, while other improvements come in the form of control. The HDR does bring the highlights down significantly in the flashback sequences, although these scenes appear to have originally had blown out exposure intentionally. This disc unfortunately falls victim to an error that also exists on the previous bluray, but has not been caught until this release. Around the 40 minute mark a scene repeats itself in a way that was not in the original cuts of the film. Luckily it's barely noticeable to new viewers, but if you plan on purchasing this copy, you may want to wait until an official Arrow Video replacement disc is offered.
Overall
I think this film should absolutely be in your collection no matter what. Usually I don't discuss film content as much as I try to highlight the actual release of the film, but this movie is super cool. If you're into dystopian, post apocalyptic sci-fi movies, and appreciate the irony that this movie now has in a post pandemic world, then you should definitely pick this one up. As a completionist to the 4K format, I think this is still the definitive version of this movie and worth owning. As a realist, I will say I think that since this is the same scan as Arrow's previous bluray release of this film, I do think that that bluray still looks incredible and that there isn't a large enough difference to justify a day one purchase. Maybe hang out and wait for an Arrow Video sale to pick this one up. Especially if a replacement disc program is available by then.