The Kindred is a great example of the creative sparks that happen when you take award winning actors and put them in one of the best displays of practical effects I have seen in a long time. By the time 1987 came around, audiences had been exposed to fair amount of radical and inventive new ways to make nightmares come to life. The Kindred takes the incredible special effects of movies like Re-animator and The Thing and brings them to life through the viewpoint of budding med students in the vein of something like Flatliners or Prince of Darkness. This one delivers all the goo, gore and blood you could want out of a creature film, while also having some top notch performances and an ever interesting storyline. Thankfully this film has been given a new bluray special edition treatment from Synapse Films, and will continue to live on looking as good as ever.
Synopsis
Amanda's deathbed request to her son, John, was for him to destroy all the lab notes etc. from her last experiment. She also blurts out he had a brother. At the funeral John meets Melissa, who claims to be his mother's biggest fan. Together with some of John's friends they go to Amanda's house, but none are prepared for what they find there.
See our review of Flatliners 4K UHD from Arrow Video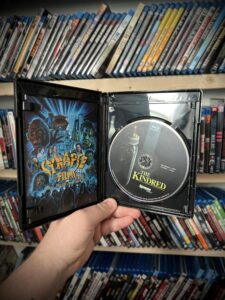 Packaging and Art
Unfortunately there's not a lot to talk about here as it is pretty much just a typical softcase release featuring one sided artwork and the bluray disc. There was a limited release of this that had a slipcover with new artwork, but this is the copy I have, and it's pretty bare bones when it comes to packaging and art.
Bonus Features
All-new 4K high-definition remaster of the unrated version of the film
New 5.1 English stereo surround remix (Original 2.0 mono theatrical mix also included)
Audio commentary with directors Jeffrey Obrow and Stephen Carpenter, moderated by horror journalist Steve Barton
Inhuman Experiments – The Making of "The Kindred," an all-new documentary (52 mins.)
A special compilation of creature effects artist Michael McCracken, Jr.'s never-before-seen on-set footage (18 mins.)
Still gallery and original storyboards
Original theatrical trailer
Original video promotional trailer
TV spots
Optional English subtitles for the deaf and hard of hearing
Audio: 5.1 English stereo surround remix and Original 2.0 mono theatrical mix
This is a brand new 5.1 mix which is really exciting. It's not going to be a mix that features a lot of surround effects, but I found that this mix really gave a new presence to the effects and score that already existed. The soundstage is much larger and has space to breathe, while offering clear dialogue throughout. I even got several scene of low frequency response that gave my subwoofers a nice little bump in some of the more impactful moments.
Video: Bluray with 4K restoration of the uncut 35mm interpositive, framed at 1.78:1 aspect ratio
I was pretty blown away by this presentation. Not only are there a substantial amount of details in closeups, but even things background are more pronounced and present. The details in colors and shadows are what really make this stand out personally. Anytime you're in the lab or dealing with creature effects, the rich and vibrant colors are practically popping off screen. Where this presentation does it's best is with the practical creature effects, bringing out all the detail in the gore and giving these effects this super glossy and gooey texture. I think this is a super clean restoration that truly made me smile multiple times.
See our review of Dog Soldiers 4K UHD Limited Edition from Second Sight Films
Overall
The Kindred should absolutely be on your buy list if you're a fan of creature features from this time frame or even just in general. I think movie holds up in 2022 as a great movie with great effects. This almost feels like a lost Lovecraftian horror film that went under the radar. The Synapse Films presentation is fantastic, and gives this film a whole new lease on life.
Purchase Synapse Film's The Kindred Bluray here.
Gear Used for Reviews:
Speakers:
Klipsch RF-7 Fronts
Klipsch RC-7 Center
Klipsch RF-82ii Surrounds
Klipsch RS-7 Back Surrounds
OSD ICE660 Dolby Atmos In Ceilings
Subs:
Klipsch RSW-115 Subwoofer (Front)
BIC Acoustech PL-200ii Subwoofer (Rear)
Klipsch SW-112 (Rear)
Dayton Audio BST-1 High Power Pro Tactile Bass Shaker
Projector:
Epson 5050ub
Screen:
Silver Ticket 135″ 16×9 High Contrast Grey screen with 0.9 gain.
Rack:
Denon x3700h
Episode 150 Amp
Dayton Audio BSA-200 Power amp
Sony UBP-X700 4K Bluray
Sony BDP-S6700 4K upscale Region Free Player
Cables:
Component cables – Key Digital 4K HDR 4:4:4 HDMI Pro Cables
Projector Cable – Key Digital 4K HDR 4:4:4 Fiber Optic HDMI