Since the dawn of the horror genre, there's been one particular storyline that has gone hand-in-hand with the field. Of course, I'm talking about babysitters here. It's an often-told story where a caretaker in distress has to step up and fight off their would-be attackers to protect the lives of the innocent children that have been placed in their care. It's a scary thought, no doubt.
There is, however, a flipside to that coin – where the babysitter goes rogue or is just pure evil. That's a nightmare situation for parents, and that feeling of terror is exactly what director Michael Thelin set out to capture with his project, Emelie.
It's a scary thought, no doubt.
When Dan Thompson (Chris Beetem) and his wife Joyce (Susan Pourfar) are left high and dry by their usual sitter on the night of their anniversary, the couple is forced to branch out and seek the service of a new sitter (Sarah Bolger) in a last ditch effort to save their evening. Enter "Anna" – a sitter who comes highly recommended (she even has a Facebook page!) and is highly qualified to handle the Thompson's three children – 11-year old Jacob (Joshua Rush), 9-year old Sally (Carly Adams) and 4-year old Christopher (Thomas Bair).
The night starts out normal enough – even though from the opening scene of the film you know that all is not well in the world–the fresh new babysitter is playing it cool and letting the young'uns get away with whatever they want. Before long, though, the kids start to realize this was just a ploy to build some trust as "Anna" begins to reveal that she has ulterior motives for being in the Thompson home. Being the oldest, the job of piecing together the puzzle before it's too late falls on Jacob's shoulders.
It's absolutely cringe worthy at times
What happens in that timeframe is a series of dark and truly twisted activities that register high on the WTF scale and are absolutely cringe worthy at times. The plot builds and builds to what you expect will be an epic ending–but that is the one area where this film fails to deliver. I walked away feeling as though more could have been done to register the gut-shot that the audience ultimately wants to see and feel. There are also some head scratchers in the plot that never get fully resolved or explained, which almost gives the film an incomplete feeling.
Outside of this, I feel as though the film thrives in virtually every other area. Where Thelin and his team really could not have done a better job at was with their casting decisions. It's always a crapshoot when you are dealing with such young actors, but each of these youngsters completely owned their role, and Thelin gets everything out of them needed to ensure they thrive on camera. Bolger's portrayal of the mentally broken caretaker is nearly masterful, and those previously mentioned cringe worthy scenes are completely attributed to her prowess on the screen.
More could have been done to register the gut-shot that the audience ultimately wants to see and feel.
Where Emelie also shines is with cinematic flair and score, both of which really draw you in to the realm that Thelin is trying to portray. This is a dark film, so shooting in autumn when the leaves are falling off the trees and the days are often overcast was a nice touch to the overall vision of the project.
In all, Emelie takes a storyline that has been played out over the last few decades and delivers a fresh take that will capture the audience from start to finish. Its shortcomings are notable, but its achievements far outweigh those in my opinion.
Emelie is available now on DVD, Blu-Ray, and VOD Platforms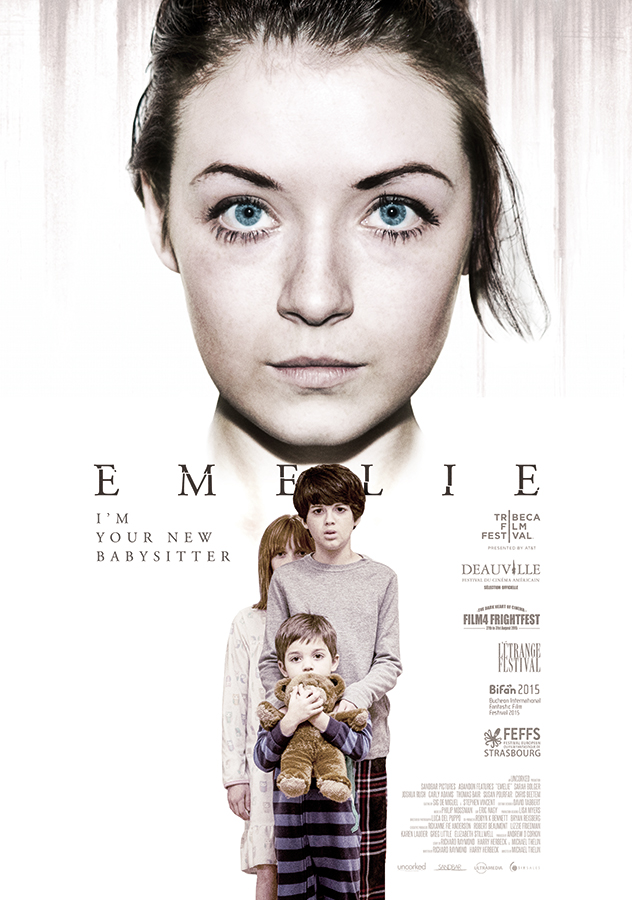 It's not often you see a refreshing take put onto a classic story arch, but that's exactly what you get with Emelie. Despite some flaws, this one delivers on multiple fronts.