This year brings us the 10th annual occurrence of Panic Film Fest. This horror and sci-fi genre festival has been a staple of the Kansas City, MO film scene for a decade now, but as the world has adapted over the last couple of years, Panic Fest has become accessible to those outside of driving distance as well. Of course there are some films that have been limited to in person viewing, but the bulk of the festival content will also be online for far flung fans or for those who just don't yet feel ready to return to the in-person experience.
Although I intend to fully immerse myself with the in-person portion of the festival's opening weekend, I'm grateful for the online content enabling me to at least double my film consumption! It feels nearly impossible to capture everything I'm excited for this year, but here's a list of the films I am most anticipating:
Having just played at SXSW Bitch Ass is creating quite a buzz. This is a film that lives in the tradition of "hood horror" alongside movies like Tales From The Hood and  The People Under The Stairs. Even better Tony Todd appears as our opening narrator giving us a nostalgic Cryptkeeper moment.
Bitch Ass is a Hybrid offering showing in-person and digitally on Friday 4/29
Lux Æterna is the latest offering from director Gaspar Noé. This one has been on the shelf since 2019 and I've been hearing some curious accounts about what it actually is. Clocking in at only 57 minutes, some early screenings have reported viewers asking for refunds because they thought they had been duped out of getting to see an actual film. That probably shouldn't make me excited but after the psychedelic nightmare that was Noé's 2018 film Climax I'm willing to go in with an open mind!
Lux Æterna shows in-person only on 5/2
I'm always on board for a horror comedy, and does anyone do it better than the Brits? This mockumentary style serial killer romp (can you describe serial killing as a 'romp'?) is the first feature from director Conor Boru, and finding new filmmakers to get excited about is one of my favorite parts of festivals!
When The Screaming Starts shows exclusively online beginning 4/30
Maika Monroe is one of those actors I will tune in for without hesitation, and this thriller looks moody, tense, and darkly beautiful. Director Chloe Okuno, who you might know from her segment 'Storm Drain' on V/H/S 94, seems to be taking a very creepy look at the male gaze and the tendency of women to be dismissed or gaslit when they raise the red flags on alarming behavior.
Watcher shows in-person only on 4/30
If this film is anywhere near as scary as the trailer, I'm probably not going back into a wooded area for quite some time! There's something locked in the small shed behind the house…and that would be terrifying enough, but also everyone seems to be hallucinating or seeing ghosts? Writer/director Adam Reider ran a successful Kickstarter campaign for this film in 2017, so it looks like it took a bit of time to pull the final product together and I'm excited to see how it turned out!
Woodland Grey shows online starting on 5/1 and in-person on 5/2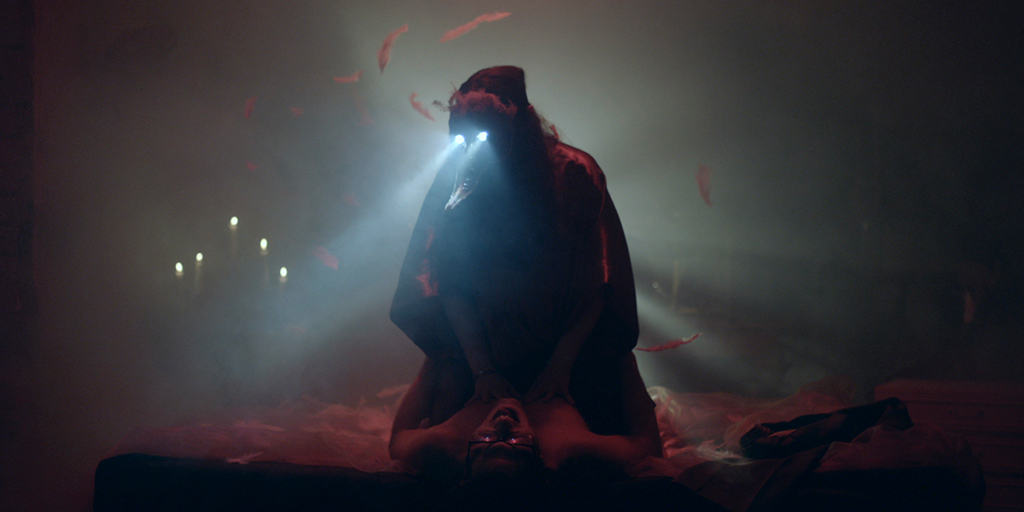 When I created the spreadsheet my friends and I use to keep track of our festival schedule, I tagged this as "look out, it's German!". I'm sure many of you have a feel for what that means. The trailer for this doesn't look nearly as brutal and unflinching as most German horror films, but it's 70s weirdo love cult vibes won't lull me into a false sense of security. I'm prepared for anything to happen in this one!
Dawn Breaks Behind The Eyes shows in-person and online starting 4/30
Panic Fest is presenting over 30 feature length films this year and even more short films. The short film blocks offer a chance to check out up and coming filmmakers as they work to bring their visions to the big screen. An additional fun component of the festival is the virtual environment they have built on the Gather platform. This 8-bit virtual theater allows guests to explore various rooms, check out virtual vendors and interact with fellow fans via video chat. Last year this was a great way to interact with filmmakers almost in person!
Panic Film Fest runs virtually and in-person from April 28 through May 8th, 2022. More information can be found at https://panicfilmfest.com/