You know it's a special occasion if we're dipping into the horror classics of yesteryear, and it is. No matter what era you grew up in or what sub genres you try to avoid, The Re-Animator and the Basket Case trilogy are films that should be viewed by horror fans of all walks. The problem is, they're getting a bit old. And you know you can't get to that old VCR in the attic without tripping over all kinds of shit. And even if you could – what the hell are you supposed to do with those Red, White, and Yellow plugs or that weird screwy thing?
Lucky for you, SECOND SIGHT has you covered. On March 14th, 2016 – the company will be releasing BOTH horror classics on BluRay in stunning 1080p.
Just a friendly PSA: The Re-Animator is locked to region B (for our UK friends) while the Basket Case trilogy is REGION FREE. That's a beautiful thing folks, so be sure to take advantage of it come March 14th.
For full details, check out the release below:
Second Sight is delighted to announce the re-release of two seminal horror Blu-rays Re- Animator and Basket Case The Trilogy on 14 March 2016, both come in black case classic packaging and are packed full of outstanding special features.
'Groundbreaking' **** Radio Times
'Took a genre obsessed with masked killers, monsters et al completely by storm' **** Empire
'A gross-out, slapsticker to rival The Evil Dead' **** Total Film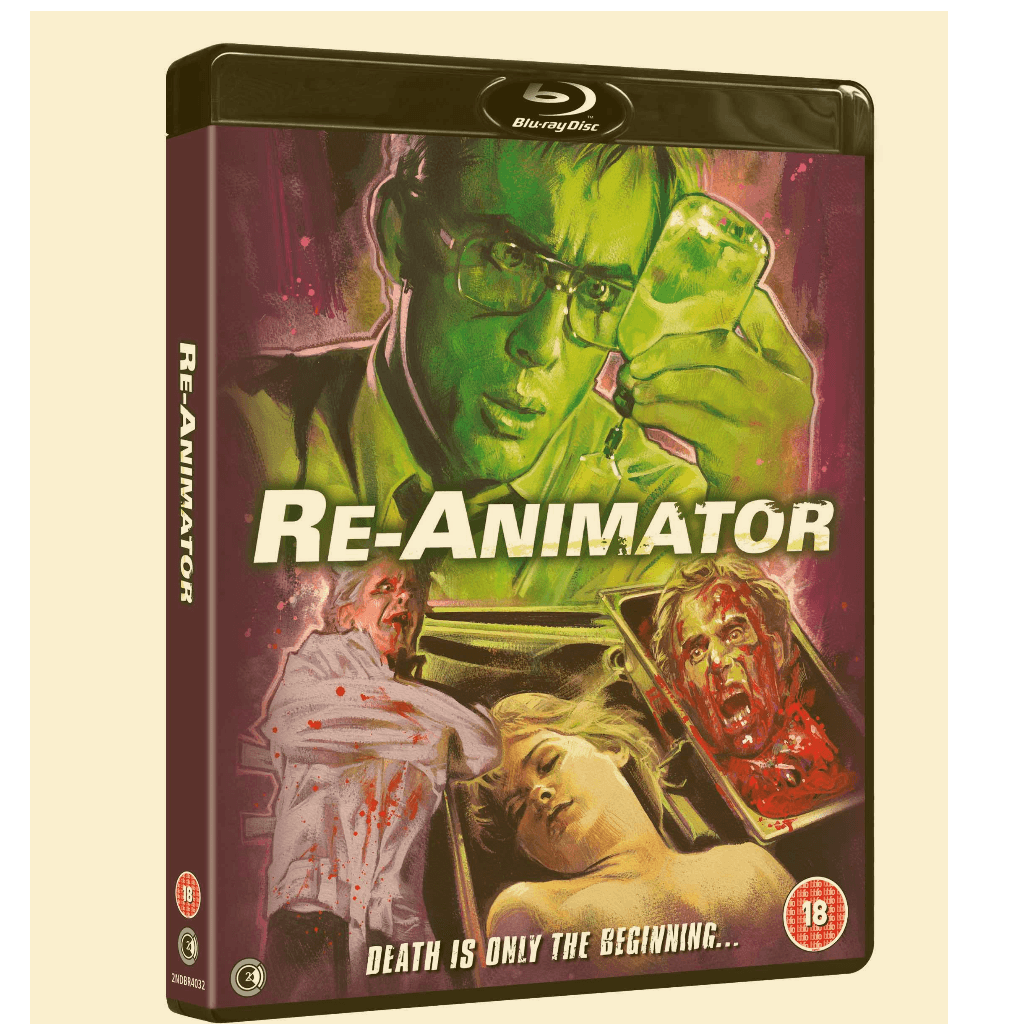 One of the most celebrated, outrageous, and original 80s horror films Re-Animator is brought back to life on Blu-ray in all its gory glory. This horror classic will be released as a two-disc set in standard double-disc case, complete with a double-sided sleeve featuring the original poster and artwork by Graham Humphreys, two versions of the gorefest that is Re-Animator and tons of special features including deleted scenes, commentaries, a documentary, interviews and more.
Brilliant, if somewhat deranged, medical student Herbert West arrives at Miskatonic Medical School and immediately sneers at his professor's outdated views on death. West has his own outlandish theories and has concocted a serum that will bring the dead back to life. Roping in fellow student Dan Cain their shocking experiments work all too well with horrific and very messy results.
Bonus features:
The 'Unrated' Version – brand new 4K restoration
The 'Integral' Version (exclusive to Blu-ray)
Audio commentary with director Stuart Gordon
Audio commentary with producer Brian Yuzna and actor Jeffrey Combs, Robert Sampson, Barbara Crampton, and Bruce Abbott
Re-Animator Resurrectus documentary
Extended scenes, deleted scenes and trailers
Gallery 
Title: Re-Animator Blu-ray (2 disc Blu-ray)
Cat.No.: 2NDBR4050
RRP:
Price: £19.99
Region Code: B
Audio: DTS-HD Master audio 5:1/LPCM Stereo
Release Date: 14 March 2016
Feature Running Time: 86 mins Cert: 18
Aspect Ratio: 1.78:1,1080p 23.98fps
'Like Eraserhead updated for the slasher generation, a deranged psychodrama, full of gleefully gory set-pieces and quirky humour' Eyeforfilm.co.uk
'An uproarious grue-streaked comedy…in the worst possible taste'
 ***Slant Magazine
One of the essential repeat rentals for any self-respecting horror fan in the early 1980s, Frank Henenlotter's cult classic Basket Case and the gloriously psychotic sequels it spawned are collected together in one of the most twisted and enjoyable horror trilogies ever made. Now the wonderfully warped films will be released as Basket Case – The Trilogy in a three-disc standard case, complete with a basket load of bonus features.
What's in the basket? A question Duane Bradley is asked alot when he arrives in New York and checks into the sleazy Hotel Broslin, a place filled with drunks, odd-bods and prostitutes. We soon discover the answer; inside is his grotesquely deformed brother Belial. Separated at birth in a brutal operation the Siamese twins have come looking for revenge on the doctors that left Belial for dead and now the basket-dweller is ready to wreak blood-soaked carnage. Where the original classic ends the sequels pick up and things start to get really deranged when the brothers meet their long lost aunt 'Granny Ruth' and her houseful of freaks.
Bonus Features:
'What's In The Basket?' – A look at the making of the trilogy with director Frank Henenlotter; actors 
Kevin VanHentenryck, Beverly Bonner, Annie Ross; producers Edgar Ievans and James Glickenhaus; 
make-up effects artists John Caglione Jr, Kevin Haney, Gabe Bartalos; and writer Uncle Bob Martin
'An Interview With Graham Humphreys' – a look at the career of the legendary film poster artist.
Additional bonus features for the original film include: Basket Case:
Video Introduction By Frank Henenlotter
Audio Commentary By Director Frank Henenlotter, Producer Edgar Ievins And Actress Beverly Bonner
Outtakes/Behind-The-Scenes
2001 Video Short – The Hotel Broslin
Trailer/Radio Spots
Photo Gallery: Behind-The-Scenes, Promotional Material, Stills
Title:
Cat. No.: 2NDBR4051
RRP:
Price: £24.99
Region Code: Region Free
Aspect Ratio: Basket Case: Original Ratio: 1.33:11
Basket Case 2 & 3: Original Ratio 1.85/16:9 anamorphic widescreen
Basket Case – The Trilogy
Release Date: 14 March 2016
Running time: 259 mins main features on 3 discs Cert: 18