It wasn't long ago that we shared the debut trailer for Cameron Burns and Aaron B. Koontz's Scare Package, but we already have some good news to share! After making waves in the festival scene with several successful screenings, the fine folks at Shudder have decided to acquire the hotly anticipated anthology for their streaming platform with a release set for June 18th!
In Scare Package, Emily Hagins, Baron Vaughn, Noah Segan, Chris McInroy, Anthony Cousins, Hillary & Courtney Andujar, and Aaron B. Koontz himself each bring you tales to demonstrate the rules of horror to the newest employee of Rad Chad's Horror Emporium. Frankly speaking, a new Chris McInroy short is all I need to throw my money at this one.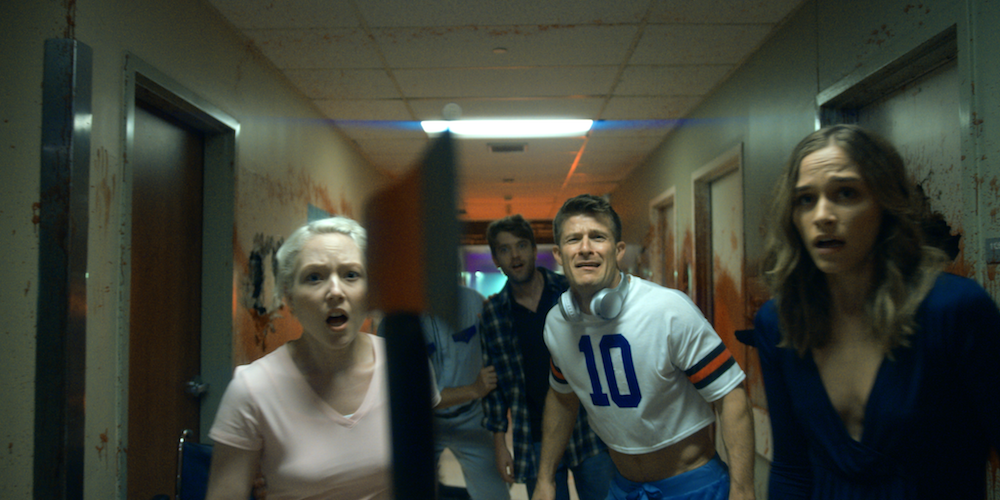 Producer and segment director Aaron B. Koontz had the following to say about the upcoming release: "People say this often, but we mean it: This truly is a movie made by horror fans, for horror fans. And we have the tears, sweat and 40+ gallons of blood to prove it. So, to be able to partner this love-letter with Shudder was a dream come true and hopefully can be a wild and hilarious distraction in our newly confined times."
If you need a refresher, check out the trailer once again and let us know what you think on Twitter @ModernHorrors. June 18th is right around the corner, so rest assured that we'll have more on Scare Package in the near future. Stay tuned!
Plot Synopsis:
Chad, the owner of Rad Chad's Horror Emporium, recounts a series of bone-chilling, blood-splattered tales to illustrate the rules of the horror genre to his newest employee. Each story takes aim at different tropes, paying homage to and subverting the timeless clichés of the beloved genre with a cast that includes Noah Segan (Knives Out), Baron Vaughn (Mystery Science Theater 3000) Chase Williamson (Beyond the Gates), Jocelyn DeBoer (Greener Grass), Jeremy King (Camera Obscura), wrestling legend Dustin Rhodes, Toni Trucks (SEAL Team), Hawn Tran (Watchmen), and more.