It's Halloween night. Nurse and single mother Romina is finishing up her shift at the hospital and trying to get home to take her son trick-or-treating. Unbeknownst to her, Romina is on a collision course with an outburst of violence that will leave her forever changed.
For the Sake of Vicious starts with a cold open, with a masked man standing over the motionless bodies of a number of men. He's holding a machete, and when he removes his mask his eyes are wild, as if he can't believe what he's done. This is Chris, a father pushed to the edge of his sanity after his daughter was the victim of a horrible and sadistic attack. When Romina returns home, she is startled to find Chris in her kicthen. Perhaps more troubling than this intruder is what he has brought with him—a hostage, beaten bloody and tied to a chair.
"on a collision course with an outburst of violence"
Chris is convinced his prisoner, Alan, is guilty of the crime against his daughter, and that he has eluded more conventional means of justice. It's soon revealed that Romina has tangential connections to both men. Though she's unsure of whose story to believe, Romina is unable to commit to either man's side. One thing she is certain of—she doesn't want a defenseless man killed in her home. Romina tries to deescalate the situation, and sees an opportunity to let Alan call someone for help.
But help is not coming. This simple, frantic phone call sets off an escalating chain reaction of events that will force Alan, Chris, and Romina to forge an uneasy alliance in hopes of escaping with their lives. What follows is tense, hyperkinetic, and bloody as hell.
Co-directors Gabriel Carrer and Reese Eveneshen, experienced but working together for the first time, have put together a tight, breakneck horror thriller doused in adrenaline and soaked in gore. Knowing a bit about the production of the Vicious makes the end result that much more impressive. The film was shot in fifteen days, and the cast did all their own stunts. The only digital VFX work was around the few instances where firearms are used. All of the other effects—frequent and gruesome—are practical. The stunts pack a wallop, and the film features one of the most exhilarating hammer-fight-in-an-enclosed-space scenes since Park Chan-wook's Oldboy.
"a tight, breakneck horror thriller doused in adrenaline and soaked in gore"
Watching the film's approach to both vengeance and violence, I was reminded of Jeremy Saulnier's films Blue Ruin and Green Room. Similar to the central characters in those films, Chris is a normal man, pushed beyond his limits in response to an unforgivable act of violence. For the Sake of Vicious doesn't look away when Chris takes his retribution. The calibre of the effects work here is sure to both delight and disgust.
The cast is uniformly excellent, particularly given the physical nature of much of the film. Nick Smith plays Chris in a visceral manner, making us empathize with this broken man but never making him seem like a hero, or superhuman. Colin Paradine embodies Alan with a sense of normalcy that makes us question whether he could be capable of the dreadful acts he's accused of. Lora Burke, who portrays Romina, is the beating heart of the film, deftly handling her character's dance between fear, confusion, strength, and determination. Perhaps most surprising to me was the acting turn by James Fler, who is primarily known for his work as a producer. He brings a cold, detached menace to his character Gerald—like a poisonous snake about to strike.
"For the Sake of Vicious is not to be missed."
It's all tied together by a score that is both percussive and propulsive, which was also composed by Gabriel Carrer (performed under the moniker Foxgrndr). It's synth-based without falling into the Carpenter worship that's often heard, also incorporating some metallic industrial sounds that ratchet up the tension. (On a personal note, I'm really hoping that one of the boutique labels will pick Carrer's score up for a vinyl release. It's that good.)
For the Sake of Vicious is not to be missed. The film incorporates aspects of action, horror, and thriller, and hits the viewer like a well-timed punch to the jaw. Each year I've covered Fantasia, I've come away with a number of films that I constantly urge people to watch. Without a doubt, Vicious will be among those films for 2020. Seek this out at your earliest opportunity.
For the Sake of Vicious has its world premiere on September 2nd, 2020 as part of the Fantasia International Film Festival.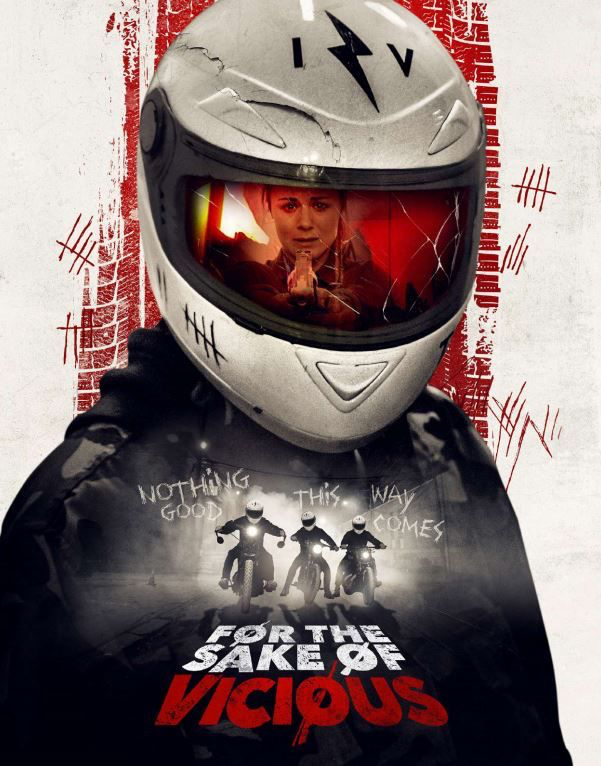 [Fantasia 2020] Bloody vengeance spirals out of control in 'For the Sake of Vicious'
Unleashed Vengeance Factor
8