We started the emoji movie guessing game a few weeks ago.  You can check out the first round here, but now we're BACK, and it's time for round two!  The game is simple… guess the following horror movie-based emoji. Go ahead and give it a shot. This round is going to be a challenge… even for the most seasoned horror fan.  The answers are listed at the end.
1.
2.
3.
4.
5.
6.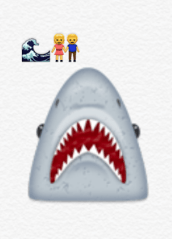 7.
8.
9.
10.
The Answers:
1. Paranormal Activity
2. A Nightmare on Elm Street
3. Friday the 13th
4. The Shining
5. Anaconda
6. Open Water
7. The Purge
8. Frozen
9. Wicker Man
10. Rosemary's Baby
Were you able to guess all the titles?  Which ones stumped ya? Be sure to comment and share your results!