Fight!
Thanks to the rapid growth of personal technology, it's now easier than ever to discover and view horror films straight from your mobile phone, computer, set top box, or streaming device. Sure, VOD platforms like iTunes, Google Play, Amazon Instant, Hulu, and Xbox Video have been around for years.But perhaps now more than ever, we're starting to see a boom in curated streaming services — particularly around the horror genre.
So while we're still early into the new year, we thought now would be the perfect time to pit these various streaming services against one another. You know, through the eyes of a horror fan. Check it out:
Netflix ($7.99):
When a Netflix member meets someone without Netflix – it's like telling us you live life without running water. We just can't imagine such a thing. The service has embedded itself in popular culture, and it has one hell of a catalog behind it. But how does it stack up for us?
Most horrors from IFC MIDNIGHT, DARK SKY FILMS, MAGNET RELEASING, and RLJ ENTERTAINMENT seem to appear in the service after a month or two of VOD release. These are typically strong indie efforts in the modern horror scene.
Excellent streaming quality with minimal service interruptions.
Excellent app support (including Google Chromecast)
Sub categories can be nonsensical and downright inaccurate.
Limited discovery. Netflix has a bazillion horror films on deck, but the same 50/60 show themselves over and over again.
It's not uncommon for a film to be spoiled by a high-res featured image.
Lots of low quality horror mixed in. Stuff that I can't imagine appeals to much of anyone.
The streaming quality and strong offerings from some of the genre's biggest indie distributors might be worth the monthly cost alone. That said, I would like to see a more diverse lineup with stronger offerings on the lower end of the indie spectrum.
Hulu Plus ($7.99):
When one thinks of Hulu, their mind may instantly go to TV offerings, but Hulu is actually a fantastic destination for fans of horror cinema. Perhaps even more so than the aforementioned Netflix.
Strong offerings from DARK SKY FILMS and RLJ ENTERTAINMENT, but not as many as Netflix. MAGNET RELEASING and the majority of IFC MIDNIGHT titles are absent. LIONSGATE and GRAVITAS are added.
Excellent streaming quality with minimal service interruption.
Mobile applications and desktop experience is serviceable, but not wonderful. Hulu is found on basically every type of computing platform (including Google Chromecast support).
Discovery options are practically nonexistent. Hulu offers very little in terms of sub categorization or algorithmic recommendations.
Far more high quality independent offerings.
FRIDAY the 13th catalog (near complete)
8 Films to Die For catalog (no 2015)
Multiple poor offerings — typically courtesy of UNCORK'D ENTERTAINMENT, but not always.
Hulu may be missing larger releases from IFC MIDNIGHT and MAGNET, but there's so much more to dig into here — especially if you're into slightly more obscure offerings.Hulu's greatest weakness is its content discovery tools, or lack thereof. There's some great stuff here… if you can find it.
Screambox ($3.99):
Screambox is one of the pioneers of streaming services dedicated solely to the horror genre. You won't find any reruns of The Good Wife here — just horror. And while that may sound like a dream come true, Screambox has a ways to go before it's ready to compete with just about anyone.
Fairly large library for a horror-only service.
Decent streaming quality with occasional service interruptions.
No application support on Mobile phones, but has quality applications on Roku, Xbox One and PS4 platforms.
Fairly strong discovery options and sub categorization. Excellent for exploring your favorite sub genre.
A plethora of bottom barrel indie titles. Not the fun kind either.
Very little in quality indie or theatrical offerings.
While Screambox may have been an early pioneer of horror streaming, its weak lineup has prevented it from growing over the last couple of years. While the console application support is appreciated — you gotta have something worth watching once you fire it up.
Shudder ($4.99):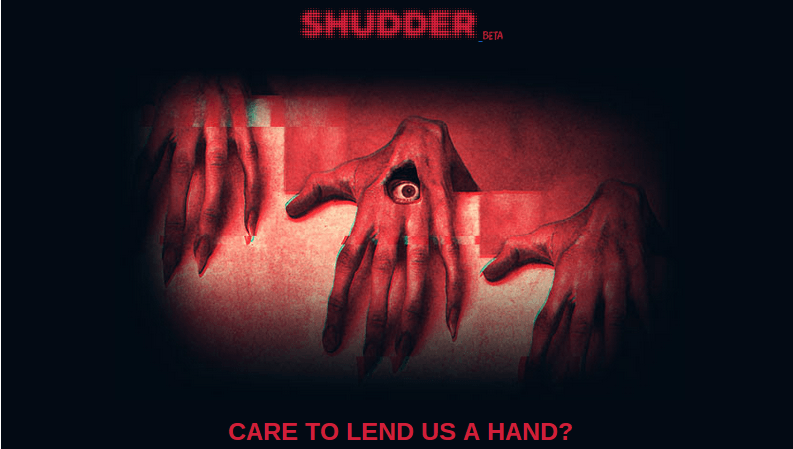 One of the latest additions to the horror-only steaming game is Shudder.com. Backed by AMC, Shudder is currently considered to be in Beta. The service emphasizes its focus on curated content. You know, quality over quantity.
Excellent streaming quality with occasional service interruption.
Excellent discovery options and sub genre categorizations. Perhaps most importantly, more and more categorizations or "collections" are being added all the time. Even better? They're accurate.
Trailers are baked into each film's landing page.
Bonus content available for certain titles.
Shudder TV is a 24/7 live stream of available titles. Can't choose what to watch? Turn on Shudder TV. Like what you're seeing? Run it back to the beginning at your convenience. This is Shudder's killer feature
Constantly expanding library
Gorgeous web interface
Quality applications available on iOS, Android, and Roku (including Google Chromecast support)
Occasional errors with Google Chromecast streaming
No Shudder TV via Chromecast
Features viewing history
Many foreign titles feature poor English dubs as opposed to subtitles
Shudder is off to a fantastic start. As a horror fan, this is a service that I'm genuinely happy to pay for. As a horror journalist — I can tell you that this one is only going to get better. While the occasional technical hiccup can lead to a frustrating experiences once in a blue moon, I fully expect these to be ironed out over the next few months. Many issues have been addressed already. Above all, Shudder seems to be run by people that know and love horror. The seek to acquire horrors only of a certain caliber, and that makes Shudder a rare gem in that regard,
Winner?:
If I'm speaking strictly as a horror fan, I would advise you to double up on Netflix and Shudder. While Hulu Plus has some truly excellent offerings, they're missing some of the larger titles that may eventually feel inclined to see. Movies like Late Phases, Last Shift, Starry Eyes, Turbo Kid, and more are simply nowhere to be found.
And if you're one for the obscure, then Shudder has you covered there for just $5 more. it's an excellent mix of classic and modern horror, and it just keeps getting better.