For many years, Chattanooga Film Festival has been blending Southern hospitality with excellent genre-friendly programming to concoct a truly excellent film festival. But for most of those years, you had to be in Tennessee to partake in the festivities.
Back in 2020, CFF was an early pioneer of the virtual film festival when COVID-19 forced them to move their festival online with much of the programming already locked. But those resilient weirdos pulled it off extremely well, providing an excellent escape from the ongoing pandemic for movie nerds that were trapped at home. And then they did it again in 2021 with similarly great results.
To play it safe with COVID uncertainties still looming, the festival opted to hold a virtual festival once again in 2022. Surely the citizens of Chattanooga miss the in-person screenings, panels, and events, but their loss is the gain of viewers from all over the country. And as frequent attendees of this festival, we here at Modern Horrors are here to amplify your excitement with a handful of feature recommendations to check out. Some are films we've seen at other festivals, some are films we're eager to see ourselves. And if you find yourself wishing you were watching something else, you won't have to embarrass yourself by walking out of a crowded theater!
Give these titles a spin, and let us know what you think of them.
If you're looking for a good, old fashioned ghost story, The Creeping might be just what you need! This first feature from director Jamie Hooper makes the most of its charming English country cottage setting to give us an incredibly spooky and effective haunting. Filmed in 2019 Hooper and his crew had ample time during COVID lock down to work on effects and post production and it really pays off in the end product. Living up to its title, The Creeping is truly very creepy without leaning too heavily on jump scares–though one or two of those might get ya too! Since we'll be watching virtually, this might be a good one to save for those late hours when your house starts to make all those sounds you never notice during the day!
South East Premiere
If you've been waiting for the next generation of genre cinema, there's good news: They've arrived early. Director Avalon Fast was just 21 years old when her debut feature premiered at Slamdance earlier this year, making her one of Gen Z's pioneering voices in horror. Honeycomb is a fever dream of a film, inviting viewers to go on a journey that they may not fully grasp and reassuring them that the plot is not the point. It's an ultra-low-budget affair full of mesmerizing moments and haunting imagery, and it's a promising first step for a director with a lot of promise.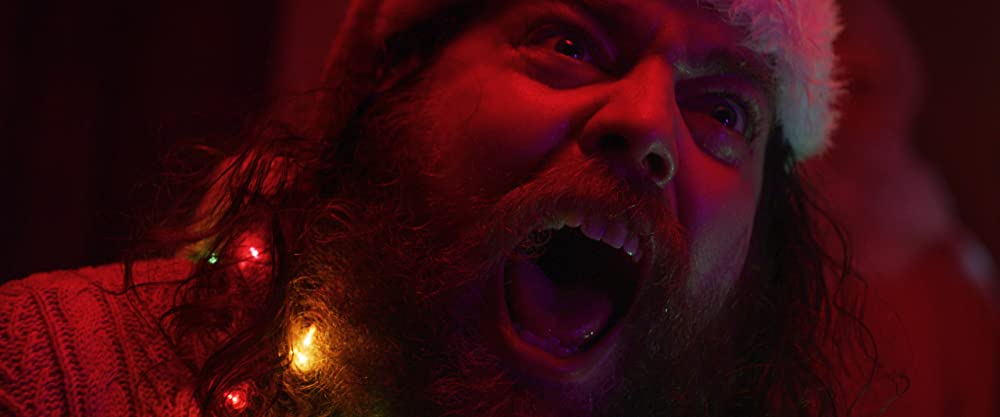 World Premiere–Opening Night Film
Let's be honest, The Leech piqued our interest as soon as we heard it was starring Jeremy Gardner. Even though he didn't need to sweeten the pot, director Eric Pennycoff (Sadistic Intentions) recently called this horror comedy "the horniest holiday romp of the year"…you had our curiosity, now you have our attention! The Leech explores what happens when a simple act of kindness becomes the ultimate test of fate after a devout priest (Graham Skipper) invites a struggling couple (Gardner and Taylor Zaudtke) into his home at Christmas time. Things probably go off the rails from there and we're eager to check out the carnage!
North American Premiere
Ireland's been on fire when it comes to imported horrors as of late. From A Dark Song to The Hole in the Ground to Boys From County Hell, they've brought us a slew of features that are consistently gnarly and fun. Enter director Niall Owens, who spent the past decade making award-winning short films before breaking through with his feature debut, Gateway, a low-budget crime thriller about a group of desperate drug dealers taking shelter in an "abandoned" house on an "ordinary" street. We don't know exactly what's on the other side of this "gateway," but it sure sounds spooky, and we love a good European mystery.
North American Premier
It is probably no coincidence that the all girl rock band PussyCake has the punk vibes that might remind you of real life Russian feminist protest band Pussy Riot but the horror in this film looks to be some sort of zombie like creatures rather than oppressive government. This Argentinian film, directed by Pablo Parés, will be making its North American debut at Chattanooga Film Festival. PussyCake is a frantic, fast paced ride along with a struggling band hoping to regain the attention of their once loyal fan base…unfortunately what they find instead are deserted towns populated only by horrors they could not have imagined!
World Premier–Both Films
Ever wanted to time travel? Well here's your chance! Jay Burleson, the mastermind behind Troma's quietly great no-budget feature The Nobodies, invites you to journey back to 1979, when the slasher flick was cinema's latest novel curiosity…and then skip years ahead to the early 90s, when slasher sequels dominated the horror shelves at your local video stores. Witness psychotic killer Jakkariah Harding as he terrorizes a college football party in The Third Saturday in October…and then skip ahead a few sequels to see Harding terrorize more hapless football fans in The Third Saturday in October Part V! (Tennessee fans, this one's for you.)
Chattanooga Film Festival is presenting over 35 feature length films this year and several blocks of short films (which are a great way to get a sneak peek at up and coming filmmakers)! If that's not enough for you CFF is also known for its exciting lineup of special events and panels and this year is no exception. Fans can look forward to the annual Rustic Films screenplay pitch competition, multiple dispatches and commentaries from casts and crews, a Q&A with Andre Gower and Ryan Lambert from Monster Squad and a salute to USA Up All Night with legendary host Rhonda Shear!
Chattanooga Film Festival runs virtually from June 23rd to June 28th and you can get all the information you need as well as passes to see EVERYTHING here: https://www.chattfilmfest.org/