Before giving DC Comics a blockbuster franchise with the Wonder Woman films, Patty Jenkins dropped a behemoth of a debut film with 2003's Monster. Winning almost 30 awards from across the globe including an Oscar for it's lead role, Monster was absolutely deserving of a re-release, and it got the Cadillac of treatments from Second Sight films in a beautiful new Limited Edition Blu-ray release.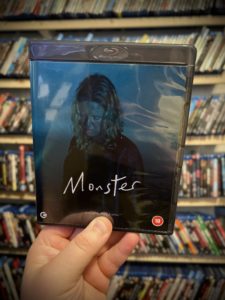 Packaging and Art
Without a doubt, the packaging and transfer of this release makes this movie experience better in every way. It reminds you that you are holding a beautiful yet brutal work of art. This is a film that has previously never benefited from any kind of a special or boutique release, and I am really glad that this is the treatment it received. The film is encased in a rigid slipcase featuring the brand new, cinematic artwork from Daniel Benneworth-Gray. Inside that slipcase is the bluray softcase, soft cover book with new essays on the film, and six collectors art cards from the film. This release follows the traditional look of the Second Sight Limited Editions that has come before it, and looks seamless with the rest of their releases on a shelf, while also standing out as it's own unique addition thanks to the aforementioned artwork from Benneworth-Gray.
Bonus Features
Special Features
Audio Commentary with Writer / Director Patty Jenkins, Actor / Producer Charlize Theron and Producer Clark Peterson
Making a Murderer: a new interview with Director Patty Jenkins
Producing a Monster: a new interview with Producer Brad Wyman
Light From Within: a new interview with DoP Steven Bernstein
Monster: The Vision and Journey
Based on a True Story: The Making of Monster
Deleted and Extended Scenes with Director Commentary
Monster: Evolution of the Score
Original Trailer
English subtitles for the hearing impaired
Limited Edition Features
Rigid slipcase with new artwork by Daniel Benneworth-Gray
Soft cover book with new essays by Anton Bitel, Hannah Strong & Shelagh Rowan-Legg
6 collectors' art cards
Audio: 5.1 DTS-HD Master Audio: LPCM Stereo 2.0
I will say upfront that I was not able to find much in the way of information about this transfer as far as Audio and Visual are concerned, so these sections will be primarily based on my experience alone. The 5.1 surround mix was super crisp and present with clear dialogue throughout. My receiver also took that 5.1 and upscaled it very seamlessly into my back surrounds and height channels creating a really enveloping soundstage, especially when BT's stringed instrument score kicks in during heavier moments in the film. This one also has a good amount of LFE in the musical moments and especially when the dramatic intensity builds. This is probably one of my more favorite 5.1 mixes I have heard in a while.
Video: 1080p Bluray
I thought audio information was scarce on this release, but information on this transfer process and what materials and scans were done on this bluray have been very hard to find. What I can say is that this is a significant upgrade from the previous released bluray. Despite being a softer and more grainy affair, there were many scenes that I think could have fooled most people that it wasn't a 4K UHD disc. The colors were vibrant, while also maintaining solid, rich black levels. I couldn't see any compression or pixel clumping. The spectral highlights were extremely bright and popped off the screen, and showed off quite a bit of detail in things like metal and facial features like pores. Due to the cinematography decisions of Steven Bernstein and Patty Jenkins, this movie does fall on the softer side with plenty of grain, but that is not at the expense of details in closeups and adds to the raw beauty of the film itself.
Overall
Anyone who has read my reviews before is probably used to hearing me say this, but Second Sight Films is doing something incredible by giving films a brand new life from artwork to some of the best audio and video transfers I have ever seen. Their quality extends to this release in a big way, giving Patty Jenkin's debut film, the perfect treatment that should absolutely be on your shelf. Don't sleep on this one, it's selling out.
Gear Used for Reviews:
Speakers:
Klipsch RF-7 Fronts
Klipsch RC-7 Center
Klipsch RF-82ii Surrounds
Klipsch RS-7 Back Surrounds
Klipsch RSW-115 Subwoofer (Front)
BIC Acoustech PL-200ii Subwoofer (Rear)
(4) Dayton Audio BST-1 High Power Pro Tactile Bass Shaker
OSD ICE660 Dolby Atmos In Ceilings
Seating:
American Signature Fiero Theater Recliners
Projector:
Epson 5050ub
Screen:
Silver Ticket 135″ 16×9 High Contrast Grey screen with 0.9 gain.
Rack: (SysRack 18u)
Denon x3700h
Episode 150 Amp
Dayton Audio BSA-200 Power amp
Sony UBP-X700 4K Bluray
Sony BDP-S6700 4K upscale Region Free Player
Apple TV 4K (2021)
Xbox One S 
PS4
AC Infinity Aircom T8
TCP-4 Rack Fan
2x AC Infinity Axial Fans
AC Infinity Airframe T7
URC MX450 Universal remote/base/RF adapter.
Monster Power Conditioner
Cables:
Component cables – Key Digital 4K HDR 4:4:4 HDMI Pro Cables
Projector Cable – Key Digital 4K HDR 4:4:4 Fiber Optic HDMI
Acoustic Treatment:
6 – 2×4 4″ panels
2 – Auralex 2x2x2 panels
2 – Arial acoustic diffusers
3 – 1.5×3 4″ Ceiling panels
Black Velvet treatment to front stage
Paint:
Sherwin Williams Tricorn Black