Aaron Koontz and Cameron Burns (Camera Obscura, The Pale Door) had a crazy idea: bring the rising stars of modern horror together for a splatter-filled meta throwback horror comedy anthology that pays respect to the VHS era of yesteryear. Now that idea comes to fruition with Scare Package. Seven stories from seven up-and-coming directors centered around and old school video store, each taking aim at different tropes and timeless clichés.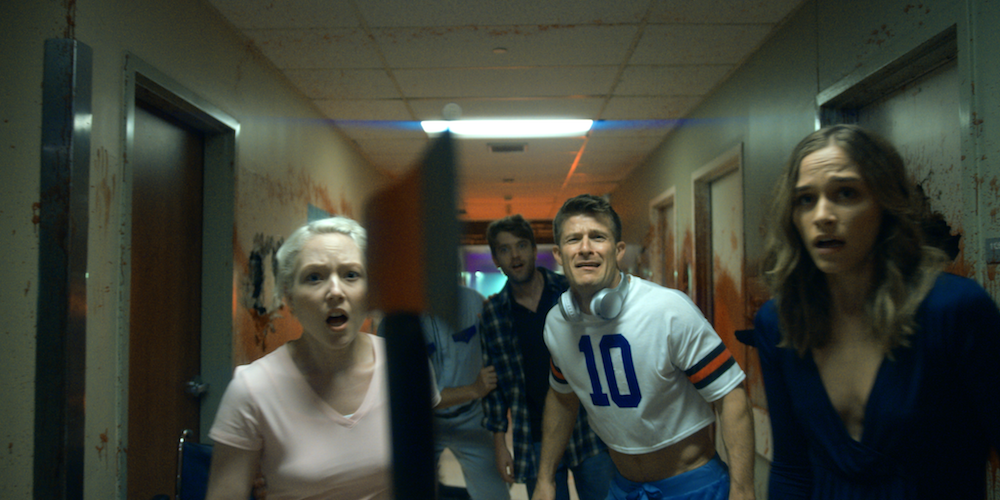 a splatter-filled meta throwback horror comedy anthology
Emily Hagins, Baron Vaughn, Noah Segan, Chris McInroy, Anthony Cousins, Hillary & Courtney Andujar, and Aaron B. Koontz himself each bring you tales to demonstrate the rules of horror to the newest employee of Rad Chad's Horror Emporium. It's a concept packed with potential, and we're especially excited after having gotten our first look at the new trailer and poster, below. The baller cast includes Noah Segan (Knives Out), Baron Vaughn (Mystery Science Theater 3000) Chase Williamson (Beyond The Gates, Artik), Jocelyn DeBoer (Greener Grass), Jeremy King (Camera Obscura), and WWE legend Dustin Rhodes!
No release date yet, but look for this one to hit video store shelves later this summer. We'll be sure to get our eyes on it and let you know what we think ASAP, but until then check out the trailer and poster and let us know what you think!
Chad Buckley is a horror aficionado, and he's lonely. Chad spends his days at his struggling genre video store arguing with his only regular customer, Sam. When an unsuspecting applicant shows up, Chad begins to teach him about the rules of horror and his video store at large, much to the chagrin of Sam. During Chad's on-boarding process, we weave in and out of different hilarious horror shorts, each one geared at a different set of horror tropes. As this new applicant learns the ropes, he begins to suspect Chad of something sinister, but we quickly learn that he may have a secret of his own.