I don't think Nicolas Winding Refn's 2011 film Drive needs any introduction. The stylish, neon depiction of romance amidst a criminal underworld full of tension has cemented itself as a cult classic, with it's synth driven score and soundtrack going on to become arguably more popular than even the film itself. No matter what side of the taste coin you land on, it's a safe bet that you've probably heard about this film. Much to my elation, Drive has received, in my opinion, one of the highest honors a film can receive in distribution game, and that's a 4K restoration from Second Sight Films. Not only did this movie get the 4K treatment, but it also got an absolutely gorgeous and massive Limited Edition release complete with a 3 inch thick hard case enclosure. Prepare your collector heart for physical media greatness.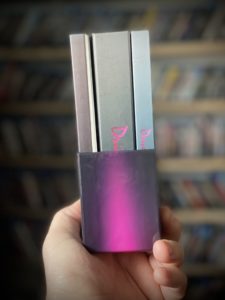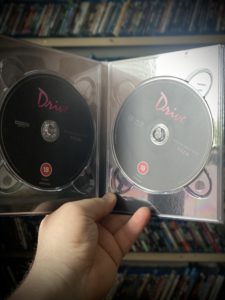 Packaging and Art
I'm going to try and refrain from writing a novel in this section; but it won't be easy. This is hands down one of the most beautiful box sets I have on my shelf. The new artwork by AllCity is gorgeously wrapped around a 3 inch thick hard shell. Much like Second Sight's Dawn of the Dead limited edition 4K set, the contents of this box are enclosed within another hard shell cardboard holder that slides out of the outer shell. Inside you find the 2 fold digi-book that holds the bluray and 4K UHD disc. Also included is a hardback book with new essays and an interview with Drive novel author James Sallis. Sallis's novelization of the film is also featured in this box set. Lastly, we have 7 collectors' art stills.
Bonus Features
Standard Edition
A Special Edition release presented by Second Sight Films and Director Nicolas Winding Refn
Includes UHD and Blu-ray both with main feature and bonus features
New 4K master produced by the original post production company and approved by Nicolas Winding Refn
UHD presented in Dolby Vision HDR graded by the film's original colourist
Dolby Atmos and DTS-HD Master Audio 5.1
New exclusive audio commentary by Nicolas Winding Refn and The Guardian film critic Peter Bradshaw
Drive: a 70 minutes conversation with Nicolas Winding Refn, Editor Mat Newman and Composer Cliff Martinez
Cutting a Getaway – a new interview with Mat Newman
3 Point Turns – a new video essay by Leigh Singer
Optional English subtitles for the hearing impaired
Limited Edition
Premium box set packaging with new artwork by AllCity
240-page hardback book with new essays by Travis Crawford, Hannah, Strong, Alison Taylor, Matthew Thrift, Simon Ward, Thomas Joseph Watson and Emma Westwood, an exclusive interview with Drive author James Sallis by Matthew Thrift, original storyboards, stills and behind-the-scenes photos
The original novel with exclusive new artwork by AllCity
7 collectors' art cards
Audio: Dolby Atmos and DTS-HD Master Audio 5.1
The audio on this release of Drive is absolute demo worthy material. Anybody that has anything from a decent audio setup to a full blown Dolby Atmos capable theater is going to get something special here. I can confirm that if you have a dedicated home theater with good subwoofers and bass handling, then you are in for such a treat. My subwoofers and bass transducers were thumping pretty much the entire movie. This film's soundtrack and score are mixed so well throughout all channels. Dialogue is clear and crispy. Anytime a gun or car is being used, you're getting slammed with bass and impact. Great use of height channels for full immersion. If I gave ratings on these blogs, this would definitely get one of my highest audio ratings. It's not a blockbuster film, so don't go in expecting something this isn't, however, for an indie crime film, this will deliver all the audio goods. This is easily making it's way onto my demo material for showing off my theater.
Video: 4K UHD presented in Dolby Vision HDR graded by the film's original colourist 
Drive is a movie that deserved the 4K HDR treatment, and it sure got it. Being a more recent film, and one that was shot digitally, Drive really looks spectacular here. Dark scenes, of which there are many, are super controlled and detailed, giving the neon accents and streetlights an extra boost of contrast. The HDR here really shines in the daytime photography that is brought to life by cinematographer Newton Thomas Sigel. Colors are vibrant and rich giving the Los Angeles backdrop the dreamy vibe that colorist Tom Poole intended. To put it plain, this film looks incredible in 4K HDR.
Overall
It should be no secret by now that Second Sight Films gives their films the treatment they deserve, and Drive is no exception from that rule. This is by far one of the best 4K transfers I have experienced and the Limited Edition box set is one of the prettiest things to grace my movie shelf in quite some time. Both audio and video are knockouts with this release, with the Dolby Atmos mix being the biggest delight. This one delivers on massive bass, full 4K HDR immersion and gorgeous packaging. It's a no brainer, pick this up as soon as possible.
Also, there is a standard edition 4K, and bluray of the Second Sight restoration that is available as well.
Gear Used for Reviews:
Speakers:
Klipsch RF-7 Fronts
Klipsch RC-7 Center
Klipsch RF-82ii Surrounds
Klipsch RS-7 Back Surrounds
Klipsch RSW-115 Subwoofer (Front)
BIC Acoustech PL-200ii Subwoofer (Rear)
Dayton Audio BST-1 High Power Pro Tactile Bass Shaker
OSD ICE660 Dolby Atmos In Ceilings
Seating:
American Signature Fiero Theater Recliners
Projector:
Epson 5050ub
Screen:
Silver Ticket 135″ 16×9 High Contrast Grey screen with 0.9 gain.
Rack: (SysRack 18u)
Denon x3700h
Episode 150 Amp
Dayton Audio BSA-200 Power amp
Sony UBP-X700 4K Bluray
Sony BDP-S6700 4K upscale Region Free Player
Apple TV 4K (2021)
Xbox One S
PS4
AC Infinity Aircom T8
TCP-4 Rack Fan
2x AC Infinity Axial Fans
AC Infinity Airframe T7
URC MX450 Universal remote/base/RF adapter.
Monster Power Conditioner
Cables:
Component cables – Key Digital 4K HDR 4:4:4 HDMI Pro Cables
Projector Cable – Key Digital 4K HDR 4:4:4 Fiber Optic HDMI
Acoustic Treatment:
6 – 2×4 4″ panels
2 – Auralex 2x2x2 panels
2 – Arial acoustic diffusers
3 – 1.5×3 4″ Ceiling panels
Black Velvet treatment to front stage
Paint:
Sherwin Williams Tricorn Black