Unearthed and Untold: The Path to Pet Sematary is a documentary about the making of the classic Mary Lambert/Stephen King film. It was co-written and directed by John Campopiano and Justin White, and it took them a reported five years to complete.
Production-wise, it's nothing flashy, but it doesn't have to be. It's all about the content. It has behind-the-scenes footage and photos, lots of great interviews, and location tours. It does feel a bit like a feature-length DVD/Blu-ray bonus feature to some extent, but there's nothing wrong with that. I love that stuff.
There's a lot here for fans to learn.
The film includes interviews with just about everyone you can think of that worked on the movie, save for King, the late Fred Gwynne, and maybe a few bit players, but the rest of the main cast is present, including the actors from the flashback scenes, and even the truck driver. There are also plenty of crew members on hand to discuss their memories and contributions to the picture, as well as people who were living in the small Maine town Pet Sematary was filmed in, who share a glimpse into what it was like to have a big movie production come in. As an added bonus, we even get some memories from A Nightmare on Elm Street star Heather Langenkamp.
Where the film really shines is in its wealth of trivia about Pet Sematary. There's a lot here for fans to learn.
It would have been nice if King had participated with new interviews, considering that he not only wrote the book, but also the screenplay and appeared in the movie, but what are you gonna do? I had a similar feeling when recently watching the Creepshow documentary Just Desserts. I guess these kinds of projects just aren't King's thing. Unearthed and Untold did manage to include some footage of King speaking at an event. There are also plenty of old photos from the set, so it never feels like King (or Gwynne) is completely absent.
If you're a fan of Pet Sematary, there's a lot to love about Unearthed and Untold, but even if it's never been one of your favorites, you may find it interesting and develop a greater appreciation for the film as a result.
It really hits home just how special Pet Sematary is as an entry into the horror genre.
Pet Sematary has been one of my favorites since I was a little kid, and the novel is perhaps my favorite Stephen King book. I'm certainly among the target audience of this doc, but even still, I couldn't help but come away from this thing with an even greater appreciation for the film. Listening to them discuss various scenes, it just really hit home how special Pet Sematary is as an entry into the horror genre. There are so many memorable scenes and little moments that help contribute to its classic status; it's just interesting to see all of that dissected.
There are a few things I would've liked to have seen (besides the King's presence) in the doc that didn't make it. The novel is discussed, but it would have been nice to get a little more discussion about that, and specifically about some of the differences between the two pieces. Of course King, having written both the novel and screenplay, would have been the best person to discuss this, so I can understand why this wasn't explored more.
It would have also been interesting to get a little more about the participation of the Ramones beyond the 20 seconds or so we do get, though this is understandable as well given that we're dealing with deceased persons. We do get some brief comments with Marky Ramone, so it's not as if the filmmakers didn't do what they could.
Finally, I would have enjoyed seeing a little bit of discussion about that strange face blob moment (I'm sorry, I don't know what else to call it) that takes place in Pet Sematary as Louis Creed makes his way to the Micmac burial ground, but that's less of a complaint and more just a "it would've been cool" thing.
These are all so minor of gripes, I wouldn't even call them gripes. They're basically just the few things I could think of that the doc didn't quite deliver on. As a source of information and commentary about Pet Sematary from the people who were involved with it, it delivers on every other level. If you love Pet Sematary, I have a hard time imagining you won't enjoy the hell out of Unearthed and Untold: The Path to Pet Sematary.
The documentary is out Friday, January 13th on Amazon Instant, XBOX Live, VUDU, Sony PlayStation Network, Google Play and iTunes from Terror Films. It will hit Amazon Prime, Roku, Hulu and cable VOD at a later date, and iTunes will have exclusive bonus features, to be released in a special package within the coming month. The film will get a Canadian release later this year via Raven Banner Releasing.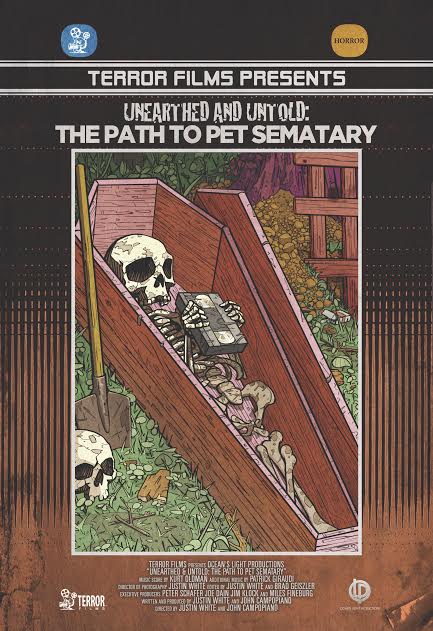 Unearthed and Untold: The Path to Pet Sematary [Review]
Key Player Participation
7