As I stated in my previous review for Twelve Nights At Rotter House, I'm not a huge fan of ghost stories. However, still high on the love I had for Rotter House, I decided that perhaps I had been too hasty in my dislike for what is a pretty solid genre. When asked to review The Garden Of Bewitchment by gothic horror writer Catherine Cavendish, I thought that, in the spirit of trying new things, I'd give it a go.
Whilst not strictly a "ghost story," there's everything that you would want from a book dealing with a haunting. There's a haunted board game, the dark Yorkshire Moors setting and, of course, the ghost of Branwell Bronte.
In 1893, Evelyn and Claire leave their home in a Yorkshire town for life in a rural retreat on their beloved moors. But when a strange toy garden mysteriously appears, a chain of increasingly terrifying events is unleashed. Neighbor Matthew Dixon befriends Evelyn but seems to have more than one secret to hide. Then the horror begins. The Garden of Bewitchment is all too real and something is threatening the lives and sanity of the women. Evelyn no longer knows who – or what – to believe. And time is running out …
There's a fair bit to unpack there. First of all, I'll be brutally honest. I devoured this book in three sittings. The final sitting may have involved me listening to Wuthering Heights on a bit of a loop but that's neither here nor there. It might not be the biggest of novels, coming in at 288 pages, but this just means that it's a very tightly wound story. There's nothing on the page that fails to move the plot or the character development forward. In this case, the length works 100% in the favor of the book.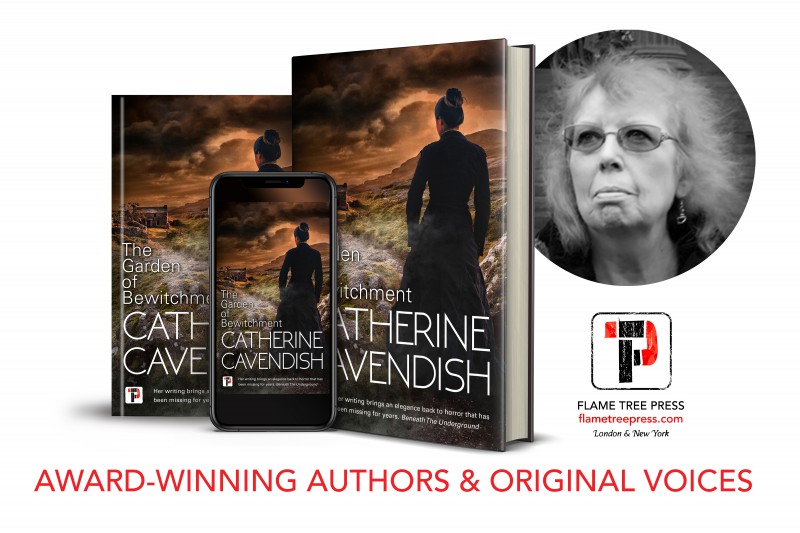 if there is a crown of queen of gothic horror, she should be wearing it
The three main characters are all fully formed, flawed, and almost painfully realistic. Both Evelyn and Claire are both fleshed out women of 1890's, dealing not just with hauntings and spooky board games, but also the societal pressures put on unwed women over 30–something that Cavendish digs deeply into throughout the story. This attention to detail and setting not only enhances the claustrophobia of the novel, but presents some very interesting dynamics as the plot thickens.
There is a light love story woven through the tale, but at no point does it become too much or detract from the horrors that the Garden throws at our cast. I would be remiss if I didn't mention that Cavendish works especially hard to make the setting of the story is a character unto its own right. For those that don't know the UK very well, her description of both Yorkshire and the Yorkshire Moors are both eloquent and at times a little breath-taking.
I'd also like to take a moment and praise the amazing use of language from Cavendish throughout this novel. She does something with the English language that both dates it and makes it feel modern. The phrase "gothic horror" can be a bit of a head-scratcher for some people, but in The Garden of Bewitchment, Cavendish proves that it is still a genre worth digging as deep as possible into. She also proves that if there is a crown of queen of gothic horror, she should be wearing it.
Don't believe me? Look back over her previous work The Haunting of Henderson Close, Miss Abigail's Room, and The Darkest Veil to name but a few. I've read Wuthering Heights which does get a few mentions throughout and I've dipped my toe into the waters of gothic horror in the past, but at times I've found the language to be a slight issue. Cavendish sidesteps this problem with such style and grace that you both forget your reading a story set in 1893 and really feel that you're living through their lives.
I'm full of praise for The Garden of Bewitchment, and I'm not a believer in picking holes in something for the sake of it. So I fully suggest you go out and get yourself a copy of this book. (I do also suggest you listen to Wuthering Heights a lot whilst reading it, but that's completely optional). What secrets hide in the garden? Why is Branwell Bronte an important figure to the history of Evelyn and Claire? Check out the book to find out, and, most importantly, see how hard your jaw hits the floor in the final 10 pages.
The Garden Of Bewitchment is widely available now from Flame Tree Press.