Every once in a while a movie comes along that reminds me why I fell in love with the horror genre. For me, horror movies are a way of confronting frightening scenarios in a safe and risk-free environment. And while I love a supernatural chill-fest or sci-fi epic as much as the next guy, I have a soft spot for films that replicate reality; "slice of life" films that incorporate nightmare scenarios into our, mostly mundane, everyday lives.
If you've been kicking around the site for long enough, you likely remember me raving about Derek Mungor's 2014 "first person thriller", You Are Not Alone, back when it was first released. And while quite a bit of time has passed since that initial review, the film itself has become a bit of a rarity in the indie horror space. In spite of positive reviews and promising word of mouth, You Are Not Alone spent very little time on digital platforms. It received a no-frills DVD release here in North America (which has long been out of print), before slowly disappearing from various digital storefronts.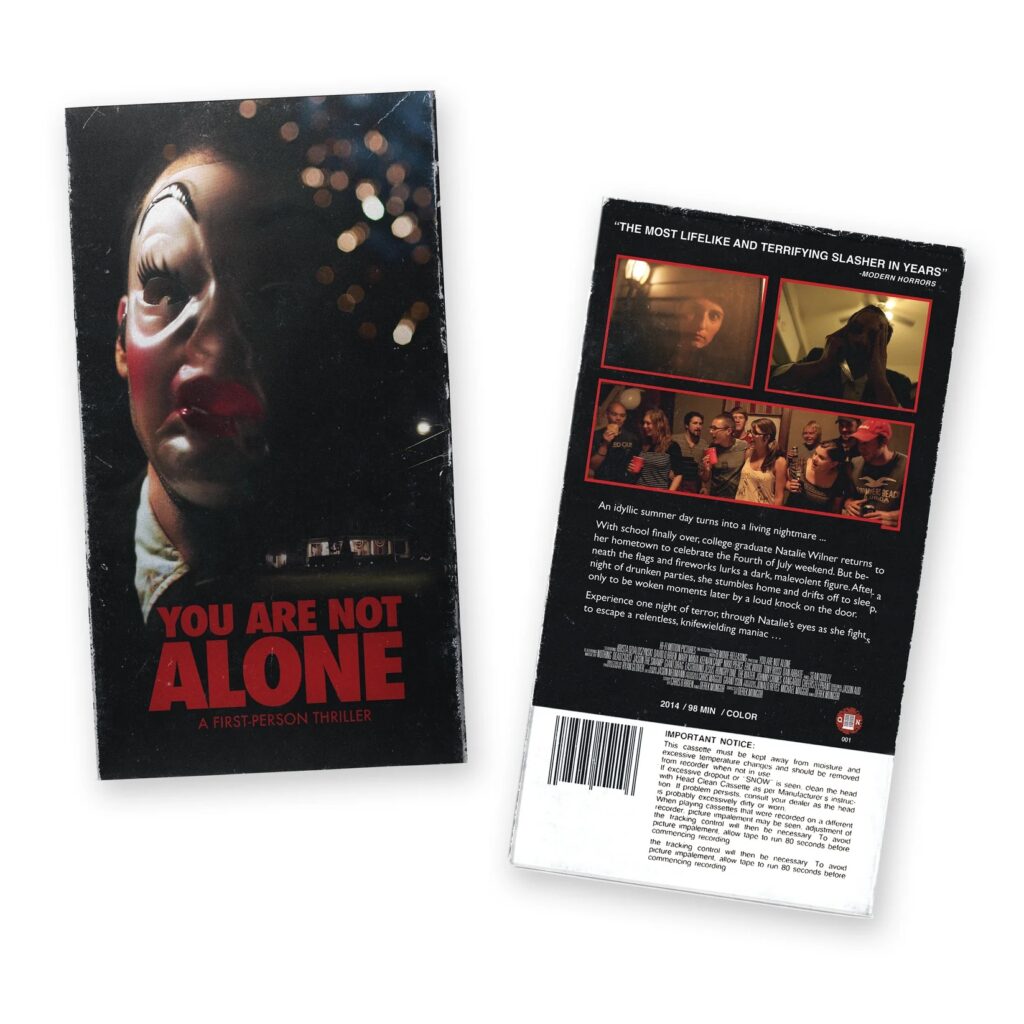 "… one of the most lifelike and terrifying slashers in years."
Luckily, boutique retailer Quiet Neighbor is re-releasing the film by way of a very limited-edition VHS tape! Copies are fully playable and come with a full-color slipcase over a classic black VHS tape. If you have never seen it before, I called it "one of the most lifelike and terrifying slashers in years". And while it doesn't follow the formula of a traditional slasher, the POV production style is done cleverly enough to be a fun and welcome addition to the format as opposed to a simple gimmick. Only a handful of movies have gotten the POV style right in my opinion, and You Are Not Alone may be at the top of the pack.
The VHS is up for pre-order right now and are expected to ship next month in August. I have absolutely ordered myself a copy already and urge you to do the same. Don't own a VCR? Yeah, that makes sense. It still makes for an awesome collectible while supporting not one but TWO indie artists working hard to make cool shit. Do what you can, even if it's just sharing the release with people online that you think may be interested. You can pick it up HERE.
With school finally over, college graduate Natalie Wilner returns to her hometown to celebrate the Fourth of July weekend. But beneath the flags and fireworks lurks a dark, malevolent figure. After a night of drunken parties, she stumbles home and drifts off to sleep, only to be woken moments later by a loud knock on the door …
Experience one night of terror, through Natalie's eyes as she fights to escape a relentless, knife-wielding maniac. YOU ARE NOT ALONE echoes the classic slasher movies of the 1970s and '80s, but adds an immersive, modern twist.